Jo Goossens (shiftN, BE)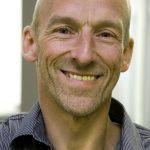 Jo Goossens is a Senior Partner with shiftN is a consultancy with 25 years of experience in helping clients to come to grips with complexity. Its uses systems thinking, multi-stakeholder dialogue and design processes to develop and visualise frameworks that allow people to think about the whole system, whether these are societal models, business systems or organisation structures. Jo is a biologist with 33 years experience in the agri-food sector He is an entrepreneurial, strategic and systemic thinker interested in nutrition and health, sustainability and collaborative innovation and business development. His activities today are centred on exploring and contributing to exploit sustainable and long-term value creation opportunities with a strong societal impact. He is convinced that with today's knowledge in biology and nutritional sciences it is possible to create added value or generate new business, which can help transform embrace nature and natural health. Jo has significantly contributed to breakthrough EU projects (GoodFood, Food4Me, QuaLiFY) which are today the fundamental basis for understanding personalised nutrition.
Quisper: Supporting science-based personalised nutrition
Quisper is a unique digital platform that is offering scientifically validated data and knowledge rules needed to build personalised nutrition advice services, as well as different digital tools such as interfaces for consumers to capture personal data, request diagnostic services and to receive the advice by a variety of means which support the delivery of such services. It is offered in a neutral, affordable and widely available way to support companies, institutions or health professionals in creating personalised nutrition services, be it for commercial, societal or research purposes. The aim is to stimulate overall more uniformity in the quality and reliability of all personalized nutrition services thus generating the necessary confidence with individuals to apply personalised nutrition advice. Quisper thus offers a 'gate to market' for organisations that have knowledge and tools to help design personalised nutrition (PN-) advice and at the same it is a 'one-stop shop' for organisations that will offer such PN-advice to individuals. At the same time Quisper aims to build the community of organisations and individuals that believe in the opportunity of PN-advice to address the complex health and nutrition issues in our modern societies.