Damian O'Kelly (NIS Nutritics – IE)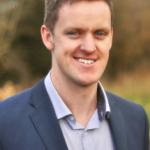 Damian O'Kelly is CEO and founder of Nutritics, a nutrition analysis software system developed for nutrition professionals, researchers and the food industry. Having completed an MSc in Sports Nutrition and BSc in Sport Science and Health, Damian has used countless nutrition software programs, and became frustrated that none could deliver what he needed to work with his clients and undertake research most effectively. Damian's mission with Nutritics is to create value by making evidence based nutrition more accessible and more practical to use using technology, with the ultimate goal of empowering better food choices. He has collaborated with hundreds of diverse companies and researchers around the world to deliver on this mission. Nutritics' multi-award winning platform has now been used by over 70,000 nutrition professionals and food businesses spanning 170 countries since its launch in 2013.
Libro Healthy Towns: A pilot initiative introducing Nutritics Connect
In line with the Nutritics mission to empower the world to make better food choices, Nutritics, in collaboration with Healthy Ireland, Fingal County Council and University College Dublin have launched a new pilot initiative in Swords (Dublin) called "Libro Healthy Towns". This is both a public health initiative and a technology showcase demonstrating, for the first time, the full Nutritics Connect vision. This vision connects food service, nutrition professionals and researchers to consumers under one platform, and delivers value to everyone involved in the process in a data driven approach. The initiative involves using Nutritics to calculate nutrition and allergen information at food service locations in Swords, enabling the presentation of recipe specific food information to customers using signage and digital menu displays on-site. Food business also benefit from costs and waste management, reformulation suggestions, automated nutrition label generation, support with Regulatory compliance and tracking of ingredient sustainability. The Nutritics smartphone app, 'Libro', highlights available menus to consumers based on geographic location. This personal version of the menu can be filtered based on user dietary preference, food allergen information or nutrition requirements. Libro also enables the user to track their steps, activity, sleep and foods consumed within the home, in addition to the restaurant items.  The pilot phase of the initiative is underway with 10 locations currently engaged, with a full launch in Swords scheduled for July 2019.