Maria Hassapidou (European Specialist Dietetic Network for Obesity - GR)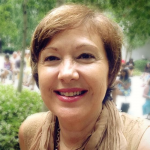 Currently, Maria Hassapidou is Professor and head of the department of Nutrition and Dietetics of the International Hellenic University. She is also the coordinator of the post-graduate course on Clinical nutrition and director of the Human Nutrition Laboratory. She has coordinated and/or participated in several research projects funded by the EU (Health, Diets I and II, Healthgrain, EURRECA, JANPA, BigO, PROTEIN), the Greek Ministries of Health, Education, Research and Technology as well as food and pharmaceutical companies, in the areas of dietary assessment and nutritional evaluation, dietary treatment of obese patients with cardio metabolic diseases and childhood obesity. She is the national coordinator for Greece for COSI (WHO European Childhood Surveillance Initiative), chair of NWG (Nutrition Working Group) of EASO, member of the EASO Childhood Obesity Task Force, member of the board of trustees of EuFoDiN (European Foundation of Dietetics and Nutrition) and chair of the European Specialized Dietetic Network (ESDN) of EFAD on Obesity. She is a member of the Hellenic Nutrition Policy Committee of the Greek Ministry of Health. Maria has authored several books and has published more than 100 scientific papers in peer -reviewed journals and conference proceedings in the areas of nutrition and obesity. She is also a reviewer in many related European and International journals.
Role of professionals in personalised nutrition
Health professionals and more specifically Dietitians are those that are responsible to deliver personalised dietary advice in their patients. The European Federation of the Associations of Dietitians (EFAD) was established in 1978. In 2018 EFAD had 33 National Dietetic Association members, representing over 35,000 dietitians in 29 European countries and 38 Education Associate Members. In the definition of a dietitian it is mentioned that dietitians assess specific nutritional requirements throughout the life span and translate this into advice and/or treatment.Personalised nutrition can be applied by dietitians in two broad areas: firstly, for the dietary management of people with specific diseases(obesity, diabetes) or who need special nutritional support—for example, in pregnancy or old age, and, secondly, for the development of more effective interventions for improving public health. Personalisation can be based on analysis of current behavior, preferences, barriers, and objectives and on biological evidence of differential responses to foods/nutrients dependent on genotypic or phenotypic characteristics. New technology has enabled multiple endogenous and exogenous factors to be studied at the same time like epigenomics, metabolomics, microbiomics as well as numerous environmental factors. The ability to measure "everything that matters" is becoming a reality with the increasing availability of fitness trackers, mobile apps, and other devices. These enable individuals to monitor continuously multiple health related factors, such as physical activity, sleep, and vital signs—for example, blood pressure, heart rate, and stress levels. All these measurements should help health professionals to assist individuals in achieving a lasting dietary behavior change that is beneficial for their health.