Maria Traka (Quadram Institute Bioscience - UK)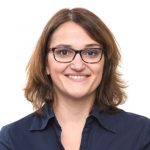 Maria Traka is the Deputy Head of Food Databanks National Capability (FDNC) at the Quadram Institute Bioscience (QIB), which is responsible for curating and managing current data on the composition of foods eaten in the UK. FDNC supports science in multidisciplinary research projects related to the use of food composition data, dietary assessment tools, and, together with QIB scientists, the links with the microbiome. Maria has an active interest in personalized nutrition, prevention of non-communicable diseases, and the importance of the microbiome in modulating response to complex diets. She has a long track record in using nutritional systems biology to understand the molecular mechanisms of NCD prevention by complex diets, in particular prostate cancer and Type 2 diabetes. She has studied the role of cruciferous-rich diets, such as those high in broccoli, in chemoprevention and maintaining a healthy metabolism, through a combination of human dietary intervention studies, and studies on cell and animal models. Her work brings together established nutritional health biomarkers, big data, including whole-genome data, and assessment of central metabolism to maximise our comprehension of the effect of diet and translate it to population benefit.
NCD and personalised nutrition: Role of the microbiome
We are experiencing a sharp rise in incidence of NCDs, which will require a multi-disciplinary approach to be most effective. Prevention strategies and active intervention at early stages, in particular around healthy eating, will be crucial if we are to have any success in reducing their burden. In the UK, education campaigns to bring the message out to the public have had some success in making people aware of basic and generalised recommendations to sustain a healthy eating (Eat Well, Change4Life) but more needs to be done. With the emerging technological advances in smart healthcare we can now begin to lay the foundations for a refined personalised approach to our interventions. Personalised nutrition aims to tailor the nutritional recommendations to each individual, in order to empower them to make meaningful changes that will benefit them directly. To achieve that, however, there needs to be a significant effort in developing evidence-based recommendations and understanding the different factors that contribute to an individual's response to different foods. Latest research shows that this is dependent not just on the types of meals a person is ingesting but also on their genetic makeup, their lifestyle, and crucially their gut microbiome composition. Microbiota resident in our gut are not only responsible for metabolising part of our food but they are also themselves affected by the composition of our diet, with differences evident in the microbiome between populations with 'westernised' vs 'hunter-gatherer' diets. Collectively, the microbiome can shape an individual's response to different meals and harnessing that information has the potential to refine and deliver truly personalised nutrition approaches for the prevention of NCDs.