Monika Mackow (Wrocław University Environmental and Life Sciences, PL)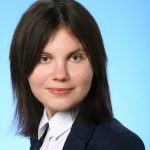 Monika Maćków – master of dietetics, graduate of Collegium Medicum of Nicolaus Copernicus University in Bydgoszcz and Medical University of Warsaw. Currently working as lecturer in Departament of Human Nutrition in Wroclaw University of Enviromental and Life Sciences and as dietician in Medical Center. Specialization: food allergy, pediatric nutrition, nutrition in metabolic and inflammatory bowel diseases.  She is author articles for magazines and trade publications about nutrition and food allergy. Also the author of research works exhibited at inter-national conferences. Currently, she is a member of  European Academy of Pediatrics, European Academy of Allergy and Clinical Immunology, Polish Society of Dietetics and a co-coordinator of the project dedicated to insulin resistance and carbohydrate disorders.
Professional responsibilities when advice is uncertain
Medical professions, including dieticians and nutritionists, should strive to achieve the highest standards of their services with regard to the well-being of patients and care for the proper prestige of their profession. Competent competences, professionalism and the highest possible quality of work should be an inseparable element of all professional activities carried out in the field of medical services, including nutrition. Physicians and dieticians consciously and voluntarily take responsibility for the patient's health. Lack of proper qualifications can lead to threats to the patient's health and life resulting both from incorrect diagnosis and abandonment of health-related activities or erroneous professional tasks.Despite the knowledge, proper operation and appropriate procedures, the services provided by a dietician are burdened with the risk of adverse events. Not always, despite the efforts, the dietitians succeed in motivating the patient to undertake dietary treatment or there is no patient's willingness to cooperate. There is therefore a need for legal regulation of the profession of a dietician in all countries, because dietary treatment also has complications.