Rebecca Barron (CremeGlobal - IE)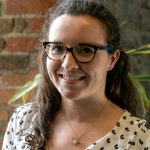 Rebecca Barron is part of the Food & Nutrition team in Creme Global and has been involved in various scientific projects for public and private organisations in the area of dietary intake modelling and technology. Prior to working in Creme Global, Rebecca was involved in research under Food for Health Ireland, focusing on dairy and cardiometabolic health. Rebecca completed her Bachelor's degree in Human Nutrition as well as a Masters by Research in Nutrition and Metabolomics at University College Dublin, Ireland and joined Creme Global in February 2018.
Data, technology and personalised nutrition
The global rise in diet related non-communicable diseases is well documented, however interventions to alter behaviour and improve public health often have limited impact. Personalised nutrition approaches which use information on an individual to develop targeted advice, products or services may be more effective than proposed "one-size-fits-all" approaches. Creme Global is a data science and technology company with over 15 years experience in developing cloud-based software in the area of predictive modelling including nutrient intake modelling and online dietary data collection. This presentation will discuss Creme Global's previous involvement in the area of personalised nutrition including the Food4Me and Foodbook24 projects. This presentation will also discuss challenges in developing a business area in personalised nutrition as well as future perspectives.